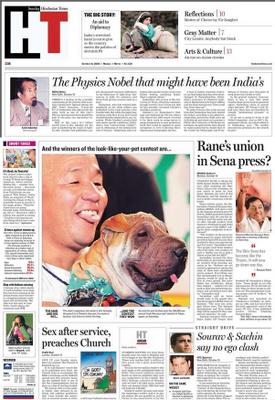 Did something important happen in the world in the last two days? Something that might have long lasting repurcussions on our own peace and security? Looking at the front page of our leading dailies you couldn't guess!
Maybe, we take democracy and elections so much for granted that it does not matter that one of the countries on our very own continent is voting for a constitution and both voting and having a constitution are something that are historic for that nation.
How can we think that what is happening in Iraq will have no effect on us? Don't we know that Iraq is one of the leading sources of oil in the world and oil is increasingly important to India's economy? Or is it that we do not realize that a democratic Iraq is fundamentally going to alter the middle eastern landscape and a peaceful, democractic middle east takes the wind out of terrorists' sails?
If we do, then why none of our leading dailies have any dedicated reporters in Iraq and why are they content to publish agency reports only? All the major American and European papers have boots on the ground but not Indian papers. In fact, leave alone Iraq we don't even have any intersting reportage coming out of Afghanistan.
You may say that why am I not content to just read the damned American newspapers then and shut up? I'll tell you why. We have a history in that region that goes way back and Indian reporters could have brought a unique perspective to stories from both Iraq and Afghanistan that western reporters cannot. Moreover, because of our historical ties, perhaps people in those countries would be more comfortable talking to Indian reporters. After all, we look alike, our food is almost similar and we share so many stories ( remember Mullah Naseeruddin and Alibaba? ) And yet and yet our media is content with reports from AP or Reuters or just republish articles by western journalists….what a loss!